New MAN TGE 3.180 KAMPER motorhome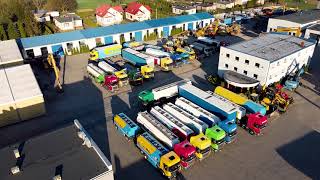 1/34
Location
Poland
Frydrychowo
Cabin
Cruise control (tempomat)
Electrically operated mirrors
Need delivery?
Calculate the cost of delivery
Camper MAN TGE 3.180 4x4
A motorhome with the most extensive range of body equipment.
Perfect for a family (2-4 people)
Auxiliary heating.
Parking air conditioning.
Satellite dish and LCD TV.
Solar Panel.
Current converter.
Omnistep, input electrical step.
The floor is lined with teak-type conglomerate, the floor is insulated (25mm).
Whole vehicle insulation, adapted to winter conditions.
Kitchen, bathroom with shower and toilet. Beds possible for 4 people.
A large number of cabinets and lockers.
A dynamic and relatively economical engine
4x4 drive
More information on the phone numbers:
show contacts
EN, PL, WhatsApp
show contacts
EN, DE, PL,
A well-equipped motorhome that guarantees comfort and driving pleasure. Perfect for long journeys.
Wohnmobil MAN TGE 3.180 4x4
Ein Reisemobil mit der umfangreichsten Aufbauausstattung Perfekt für eine Familie (2-4 Personen) Parkklimatisierung. Satellitenschüssel i LCD-TV. Sonnenkollektor.
Stromwandler.
Omnistep, elektrischer Eingangsschritt.
Der Boden ist mit teakartigem Konglomerat ausgekleidet, der Boden ist isoliert (25 mm).
Ganzfahrzeugisolierung, angepasst an winterliche Bedingungen.
Küche, Bad mit Dusche und WC.
Aufbettung für 4 Personen möglich Eine große Anzahl von Schränken und Schließfächern Ein dynamischer und relativ sparsamer
Motor 4x4-Antrieb Weitere Informationen unter den Telefonnummern:
WhatsApp
show contacts
.ENG, PL,
WhatsApp +48 795, 118653 DE, PL,
Ein gut ausgestattetes Reisemobil, das Komfort und Fahrspaß garantiert Perfekt für lange Reisen.
Kamper MAN TGE 3.180 4x4
Samochód kempingowy z najbogatszą opcją wyposażenia zabudowy.
Idealny dla rodziny (2-4 osoby)
Ogrzewanie postojowe.
Klimatyzacja postojowa.
Antena satelitarna i TV LCD.
Panel Solarny.
Przetwornica prądu.
Omnistep , stopień elektryczny wejściowy.
Podłoga wyłożona konglomeratem typu teak , podłoga izolowana (25mm).
Izolacja całego pojazdu , przystosowany do warunków zimowych.
Kuchnia , łazienka z prysznicem i toaletą. Łóżka możliwość dla 4 osób.
Duża ilość szafek i schowków.
Dynamiczny i stosunkowo oszczędny silnik
Napęd 4x4
Więcej informacji pod numerami telefonu:
show contacts
EN, PL, WhatsApp
show contacts
EN,DE, PL,
Świetnie wyposażony kamper gwarantujący wygodę i przyjemność z jazdy Idealny na dalekie podróże.
Niniejsze ogłoszenie jest wyłącznie informacją handlową i nie stanowi oferty w myśl Art. 66. § 1. Kodeksu Cywilnego. Sprzedający nie odpowiada za ewentualne błędy lub nieaktualność ogłoszenia, a dane w nim zawarte mają jedynie charakter informacyjny i mogą ulec zmianie.
Дом на колесах MAN TGE 3.180 4x4
Дом на колесах с самым обширным оборудованием кузова Идеально для семьи (2-4 человека) аварийный обогреватель. парковка кондиционер.
Спутниковая антенна и ЖК-телевизор. солнечная панель.
Преобразователь мощности. Омнистеп, электрическая ступенька.
Пол выложен тиковым конгломератом, пол утеплен (25 мм).
Изоляция всего автомобиля адаптирована к зимним условиям.
Кухня, ванна с душем и туалетом.
Возможна дополнительная кровать для 4 человек Большое количество шкафов и шкафчиков Динамичный и относительно экономичный двигатель 4х4 привод Для получения дополнительной информации звоните по телефонам: +48 660. 441 220 DE, PL, WhatsApp +48 795, 118 653 DE, PL, WhatsApp Хорошо оборудованный дом на колесах, гарантирующий комфорт и удовольствие от вождения.
Important
This offer is for guidance only. Please request more precise information from the seller.
Safety tips
Seller's contacts
Arkadiusz Zieliński
Languages:
English, Polish
Poland, Kujawsko-Pomorskie, Frydrychowo, 87-410
Seller's local time: 18:16 (CET)
Selling machinery or vehicles?
You can do it with us!