You may find interesting
Close
Audi a6
€25,010
SKODA fabia
€9,331
HYUNDAI i30
€9,549
BMW seria-3
€21,510
Audi A4
€36,000
BMW seria-3
€19,340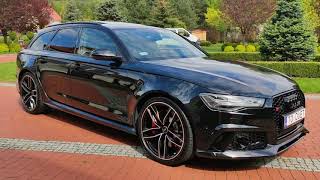 1/41
Cabin
Cruise control (tempomat)
Electrically operated mirrors
Need delivery?
Calculate the cost of delivery
colour_type: pearl
- SPRZEDAM AUDI RS6 PERFORMANCE 605KM ! ! ! BARDZO BOGATO DOPOSAŻONA ! ! !
ZAKUPIONA JAKO NOWA W POLSKIM SALONIE ! ! !
SERWISOWANA,PEDANTYCZNIE ZADBANA ! ! !
PNEUMATYKA ,ELEKTRYCZNE FOTELE
KAMERY 360
NAWIGACJA ! ! !
PANORAMICZNY DACH
HEAD-UP
BOSE
JEDEN Właściciel od Nowości !!!
Na bieżąco Serwisowana w ASO
Środek RS !!!
Samochód garażowany niczym nowy bez śladów użytkowania !!!
Bardzo Bogate Wyposażenie
Pakiet RS Dynamic Plus
Pakiet RS Comfort
Pakiet stylistyczny Czerń Audi Exclusive
Aluminiowe kute felgi 21''
Napęd stały 4x4 QUATTRO
Pakiet aerodynamiczny RS
Kierownica sportowa RS
Elektryczna kolumna kierownicza
Sportowa automatyczna skrzynia biegów RS
Przednie fotele RS Alcantara z pikowaniem w piękną kratę
Pamięć ustawień fotela
Wszystkie fotele ogrzewane
Oświetlenie ambiente
Podświetlane listwy progowe RS6 z aluminium
Elementy dekoracyjne (srebrny carbon)
Zestaw nagłośnienia Bose
Układ wydechowy Performance z regulacją dźwięku
Szyby podwójne dźwiękoszczelne
Szyba tylna i tylne szyby boczne przyciemniane
Asystent parkowania - system umożliwiający parkowanie bez udziału kierowcy
Kamery parkowania Top View 360 (wszystkie strony)
Audi smartphone
Aktywny układ kierowniczy
zintegrowany
Asystent świateł drogowych
Czujnik ciśnienia powietrza
Dostęp komfortowy
Ogrzewanie foteli przednich i tylnych
Opony z funkcją jazdy awaryjnej Runflat
Sportowy układ hamulcowy RS
Systemy asystujące kierowcy Professional
Szklany dach Panoramiczny
Telefonia komfortowa z ładowaniem bezprzewodowym
Wyświetlacz Head-Up
Śruby zabezpieczające
Pakiet innowacji
Komplet dokumentów
Dwa kluczyki
Pełna książka serwisowa
Pełna historia serwisowa
i wiele innych
Auto oklejone ochronną folią PPF
Dodatkowo zabezpieczone całe ceramiką
Zderzak przód
Zderzak tył
Progi
Błotniki przód
Słupki przód
Ranty drzwi
Lampy
Maska
Grill
Lusterka
Klamki przód
Klamki tył
link do filmu:
show contacts
- Więcej zdjęć na DUETDUDA
Więcej informacji : tel 605440440 lub 570180180
Lokalizacja 30km od Kielc
Możliwość sprawdzenia samochodu w dowolnym serwisie ASO
Lub stacji diagnostycznej lub prywatnej wybranej przez kupującego
Zgadzam się na badania miernikiem lakieru
Przedstawione dane maja charakter informacyjny
nie stanowią oferty w rozumieniu artykułu 66 k.c
Dodatkowe informacje: liczba miejsc: 5
tapicerka: czesciowo_skora
tapicerka kolor: czarny
kraj pochodzenia: Polska
Numer oferty: AKL1732JX
automatic-wipers
Relingi dachowe
Czujniki parkowania tylne
Wielofunkcyjna kierownica
automatic-lights
bluetooth
isofix
head-display
Gniazdo AUX
Regulowane zawieszenie
leds
esp
system-start-stop
both-parking-sensors
park-assist
Asystent pasa ruchu
Czujnik martwego pola
sd-socket
Gniazdo USB
shift-paddles
Światła do jazdy dziennej
Faktura VAT
Zarejestrowany w Polsce
Pierwszy właściciel
Bezwypadkowy
Serwisowany w ASO
Performance 605km Dynamic Plus Kam360 Salon PL Jak Fabrycznie Nowa !!!
Important
This offer is for guidance only. Please request more precise information from the seller.
Safety tips
Seller's contacts
GRZEGORZ DUDA
Languages:
English, Polish
Languages:
English, Russian, Polish
Poland, Swietokrzyskie, 26-021, Widełki, Widełki 37
Seller's local time: 05:53 (CEST)
Selling machinery or vehicles?
You can do it with us!