The ad IVECO Daily 70 C17 cash in transit truck has been sold and is not included in the search!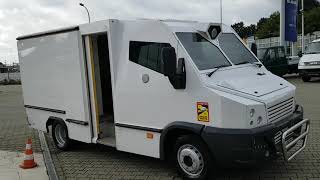 1/20
≈ $16,180
≈ NGN 6,634,000
Type
cash in transit truck
First registration
2014-03-06
Location
Poland
ŁAZISKA GÓRNE
Description
Overall dimensions
6 m × 2.45 m × 3 m
Engine
Brand
Iveco 3,0 MTJ - Nie do zajechania !
Fuel consumption
10.5 l/100km
Axles
Tyre size
16 cali . Kuloodporne
Cabin
Cruise control (tempomat)
Electrically operated mirrors
Condition
Technical inspection valid till
2022-10
We have 5 pieces for sale now.
Yearbooks 2014
Mileage cirka 200-270 tkm.
Big discount for a few pieces!
Please call for availability before your arrival. We are a direct importer of such armored vehicles.
We also provide their service.
DMC 7000kg
Curb weight: 5720 kg
Load capacity: 1880 kg
Security class SB4 + the so-called Kalashnikov class.
All armored - wall thickness from 7 cm
Bulletproof glass
We have a French certificate for everything
Telma, including the ACBG 97 liters tank,
armored car version,
100 l tank (except F3000), ABS / ASR,
Bulletproof tires, size 225/70 R16C
Pneumatic driver seat, 2-seater passenger seat,
remote-controlled central locking with remote control and automatic side door
heated and electric mirrors,
Foiled, anti-reflective double glazing
110 Ah batteries,
Car CD radio,
Reinforced suspension,
Noise reversal,
Individual passenger seat,
Cruise control,
Electronic tachograph
automatic transmission Tiptronic
External dimensions: 5.50 L * 2.20 W * 2.60 H.
Nous avons 5 pièces à vendre maintenant.
Annuaires 2014
Kilométrage cirka 200-270 tkm.
Grosse remise pour quelques pièces !
S'il vous plaît appelez pour la disponibilité avant votre arrivée.Nous sommes un importateur direct de ces véhicules blindés.
Nous fournissons également leur service.
DMC 7000kg
Poids propre : 5720 kg
Capacité de charge : 1880 kg
Classe de sécurité SB4 + le soi-disant Classe Kalachnikov.
Tout blindé - épaisseur de paroi à partir de 7 cm
Du verre résistant aux balles
Nous avons un certificat de français pour tout
Telma, y ​​compris le réservoir ACBG 97 litres,
version voiture blindée,
Réservoir 100 l (sauf F3000), ABS / ASR,
Pneus pare-balles, taille 225/70 R16C
Siège conducteur pneumatique, siège passager 2 places,
verrouillage centralisé télécommandé avec télécommande et porte latérale automatique
rétroviseurs chauffants et électriques,
Double vitrage feuilleté antireflet
Batteries 110Ah,
Autoradio CD,
Suspension renforcée,
Inversion du bruit,
Siège passager individuel,
Régulateur de vitesse,
Tachygraphe électronique
boîte automatique Tiptronic
Dimensions extérieures : 5,50 L * 2,20 W * 2,60 H.
Roczniki 2014

Proszę przed przyjazdem dzwonić o dostępność Jesteśmy bezpośrednim importerem takich opancerzonych pojazdów .
Wykonujemy także ich Serwis.
DMC 7000kg
Masa własna : 5720kg
Ładowność : 1880kg
Klasa zabezpieczeń SB4+ tzw. Kałasznikow klass.
Cały opancerzony - grubość ścianki od 7cm
Szyby kuloodporne
Na wszystko posiadamy Francuskie atest
Telma, w tym zbiornik ACBG 97litrów,
wersja dla samochodu pancernego,
zbiornik 100 l (z wyjątkiem F3000), ABS / ASR,
Opony kuloodporne o wymiarze 225/70 R16C
Pneumatyczny fotel kierowcy, 2-osobowa kanapa pasażera,
zdalnie sterowany centralny zamek z pilota i automatyczne drzwi boczne
podgrzewane i elektryczne lusterka,
Foliowane ,antyrefleksyjne szyby podwójne
akumulatory 110 Ah,
Radio samochodowe CD,
Wzmocnione zawieszenie,
Odwrócenie hałasu,
Indywidualne siedzenie pasażera,
Tempomat,
Tachograf elektroniczny
Manualna skrzynia biegów
Wymiary zewnętrzne: 5,50 dł *2,20 szer* 2,60 h.