You may find interesting
Close
MERCEDES-BENZ Actros 2545 , E6 , 6x2 , NEW BODY 2021 , 7.9m , ramps , winch
€46,090
MERCEDES-BENZ Actros 2545 , E6 , 6x2 , NEW BODY 2021 , 7.9m , ramps , winch
€52,680
Autolaweta/Autotransporter BLYSS 5 samochodów
€62,550
IVECO Euro Cargo 120-250 Thijhof 2-3 lader, Twin deck, Doppelstock - L
€67,500
MAN
€15,000
New MERCEDES-BENZ Sprinter 519 V6 NAVI LED LUFTFEDERUNG NEU MODEL 907
€66,800
MAN TGX 26.440 XXL , E6 , 6X2 , NEW BODY 7,5m , hydraulic , 2x winch car transporter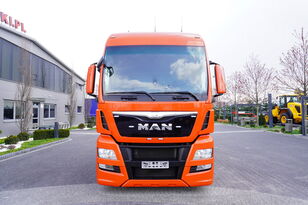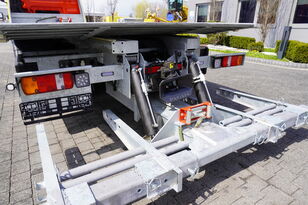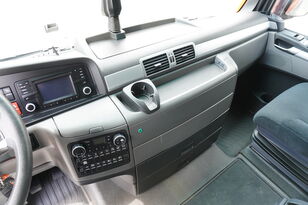 1/58
Model
TGX 26.440 XXL , E6 , 6X2 , NEW BODY 7,5m , hydraulic , 2x winch
Location
Poland
Kraków
Truck body
Body dimensions
length - 7.5 m, width - 2.55 m
Cabin
Cruise control (tempomat)
Electrically operated mirrors
MAN TGX 24.440 6X2-2 LL-U, XXL, E6, MEGA, NEW Assistance 7,5m, Hydraulic, 2x winch, tow, fork
Specification:

– Low Deck Mega
– 2017
– engine capacity 12,419 cm
– engine power 324 kW / 441 HP
– EURO 6
– Ad blue
– permissible total weight 25,500 kg
– Automatic Transmission
– wheelbase 1/2 – 480cm
– front wheels 355 / 50R22.5
– rear wheels 295 / 60R22.5
– pneumatic suspension
– NEW Body Assistance 7.5M
– hydraulically folded
– 2 x RUNVA winch (1x on the platform, 1x on the fork)
– 6,800 kg pull
– remote control from the remote control (body + winch)
– hydraulically controlled tow

equipment:
– XXL cabin
– roof spoiler
– retarder
– webasto
– sleeping cabin (2 x bed)
– air conditioning
– sunroof
– cruise control
– multifunction steering wheel
– tachograph
– el. controllable windows
– heated mirrors
– fridge
– pneumatic driver's seat
– lower hitch and installation to the trailer
– tool box
– 80% driving tires
– 1 owner
– 100% accident-free
– bought and serviced at ASO MAN
– visual and technical condition Perfect
MAN TGX 24.440 6X2-2 LL-U , XXL , E6 , MEGA , NOWA ZABUDOWA LAWETA 7,5m , Hydrauliczna , 2x wciągarka , hol , widelec
Specyfikacja :

– Low Deck Mega
– rok 2017
– pojemność silnika 12,419 cm
– moc silnika 324 kW / 441 HP
– EURO 6
– Ad blue
– dopuszczalna masa całkowita 25,500 kg
– automatyczna skrzynia biegów
– rozstaw osi 1/2 – 480cm
– koła przód 355/50R22.5
– koła tył 295/60R22.5
– zawieszenie pneumatyczne
– NOWA ZABUDOWA LAWETA 7,5M
– hydraulicznie rozkładana
– 2 x wciągarka RUNVA ( 1x na platformie , 1x przy widelcu )
– uciąg 6,800kg
– zdalne sterowanie z pilota (zabudowa + wciągarka )
– hol sterowany hydraulicznie

wyposażenie:
– kabina XXL
- spoiler dachowy
– retarder
– webasto
– kabina sypialna ( 2 x łóżko )
– klimatyzacja
– szyberdach
– tempomat
– kierownica multifunkcyjna
– tachograf
– el. sterowane szyby
– podgrzewane lusterka
– lodówka
– fotel kierowcy pneumatyczny
– zaczep dolny i instalacja do przyczepy
– skrzynia narzędziowa
– opony 80% do jazdy
– 1 właściciel
– 100% bezwypadkowy
– kupiony i serwisowany w ASO MAN
– stan wizualny i techniczny Perfekcyjny
MAN TGX 24.440 6X2-2 LL-U, XXL, E6, MEGA, 7,5 м, Гидравлический, 2 лебедки, прицепное устройство, вилка
Технические характеристики:

— Низкая колода Mega
— 2017 г.
— объем двигателя 12419 см
— мощность двигателя 324 кВт / 441 л.с.
— 6 евро
— рекламный синий
— допустимая полная масса 25 500 кг
— Автоматическая коробка передач
— колесная база 1/2 — 480см
— передние колеса 355 / 50R22.5
— колеса задние 295 / 60R22,5
— пневмоподвеска
— НОВАЯ СТРОИТЕЛЬНАЯ ЛАВЕТА 7.5M
— складывается гидравлически
— 2 лебедки RUNVA (1x на платформе, 1x на вилке)
— тяга 6800 кг
— дистанционное управление с пульта (корпус + лебедка)
— буксир с гидравлическим управлением

оборудование:
— кабина XXL
— спойлер на крыше
— замедлитель схватывания
— вебасто
— спальная кабина (2 х спальное место)
— кондиционирование воздуха
— люк
— круиз-контроль
— многофункциональное рулевое колесо
— тахограф
— эл. управляемые окна
— зеркала с подогревом
— холодильник
— сиденье водителя пневматическое
— опускание навески и установка на прицеп
— ящик для инструментов
— 80% шин для вождения
— 1 собственник
— 100% безаварийность
— покупается и обслуживается в ASO MAN
— внешнее и техническое состояние Идеальное
Important
This offer is for guidance only. Please request more precise information from the seller.
Safety tips
Seller's contacts
TOTEX Sp. z o.o.
Seller with Autoline for 10 years
The phone numbers have been checked
Languages:
English, Russian, Polish
Poland, Malopolskie, 31-752, Kraków, Karola Łowińskiego 11B
Seller's local time: 03:38 (CEST)
Selling machinery or vehicles?
You can do it with us!