New ADRIA CORAL XL Plus 670 SL alkoven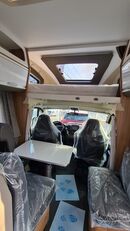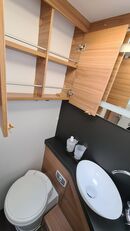 1/25
≈ $82,420
≈ NGN 34,720,000
Location
Romania
Ploiești
Purchase on credit is possible
Description
Overall dimensions
7360 m × 2375 m × 3090 m
Cabin
Cruise control (tempomat)
Electrically operated mirrors
Buy by leasing
Get an offer to buy a vehicle by leasing
Need delivery?
Calculate the cost of delivery
Dotari:

Sasiu:
Fiat 6D 2,3 160HP 35L
Radio 7", navigatie si setarea dimensiunii vehiculului FIAT
Blocare automata usi
Fiat comfort package CP0 (preinstalare radio, antena integrata in oglinzi, huse pentru scaune fata)
FIAT comfort package CP2 (include climatizare automata, geamuri cabina electrice, airbag pasager, cruise control)
Sistem monitorizare presiune roti FIAT
Roata de rezerva Fiat
Scaunele din cabina cu dubla cotiera tapitata in textil Adria
Suport pahare central
Proiectoare ceata
Lumini de zi cu LED FIAT
Rezervor combustibil ( 90 L)
Sistem traction + cu HDC
ESP
Jante de otel 16''(light 35 L version only)
Protectii noroi roti fata
Pachet culoare Iron Grey 691
Scaune cabina rotative
Stop ceata
Pozitii posterioare cu LED
Parasolar sofer si pasager
Ferestre cabina mai inchise la culoare
Anvelope ranforsate "camping car"
Tractiune fata
Plise parbriz
Rezervor AdBlue (L)
Transmisie manuala
Perdea geamuri laterale cabina
Suspensii pe aer (posterioare)
Protectii noroi roti posterioare
Picioare sustinere colturi
Suport roata de rezerva
Usa bagaje pe partea dreapta ( dimensiuni in cm ) 74 X 110
Usa bagaje pe partea stanga ( dimensiuni in cm ) 74 X 110
Usa de intrare cu fereastra, plasa de insecte, cos de gunoi si inchidere centralizata
Usa de intrare inchidere intr-un punct, fara fereastra
Windows Seitz S4 cu rama si rulou black-out si plasa insecte
Windows Seitz S5 cu rama interioara, plise Duette honeycomb si plasa de insecte in living
Locuri de dormit 5+1
Zona de dormit, patul din spate (cm) 203x85;190x85;+157x40
Pat alcoven (cm) 210x140
Dimensiuni dinette fata (cm) 205x105/56
Al treilea pat din spate
Zona de dinette in forma de L
Sistem ISOFIX pentru scaun copil

BUCATARIE
Aragaz cu 3 ochiuri cu aprindere electrica cu capac de sticla
Chiuveta de inox cu capac
Hota
Frigider 142 L
Cuptor cu gril, cu aprindere electrica

BAIE
WC Chimic, cu ventilatie pasiva
Cabina separata de dus cu usa

INSTALATII APA
Rezervor de apa proaspata cu alimentare externa si regulator( L ) 20 / 140
Rezervor de apa reziduala izolat si cu incalzire variabila 85 L
Rezervor de apa reziduala cu tub de evacuare
Pompa cu valva de presiune

INSTALATII ELECTRICE
Baterie suplimentara 100Ah, AGM; k=10
DC/convertor DC
Prize 230v
Prize 12 V
Prize USB in living
USB, prize de 12V si 30V in garaj
Lumini cu LED in tavan
Lumina cu LED exterioara
Panou solar 140W
Panou de control

INCALZIRE / AER CONDITIONAT
Aer conditionat montat in tavan Truma Aventa Comfort 2400
Incalzire Alde Compact cu incalzitor electric 230V
Sistem de incalzire Alde cu apa fierbinte, prin podea
Rezervor cu apa reziduala cu incalzire Alde
Schimbator de caldura Alde / motor
Zona de bagaje incalzita

GAZ
Regulator gaz Truma MonoControl CS 30 mbar GV
Filtru de gaz Truma

AUDIO / TV
Camera de mers in marsarier
Important
This offer is for guidance only. Please request more precise information from the seller.
Safety tips
Seller's contacts
Gabriela MARIN
Languages:
English, Romanian, Italian
Romania, Ploiești, Strada Popa Fărcaș, 12
Seller's local time: 20:04 (EEST)
Selling machinery or vehicles?
You can do it with us!